The latest 6th Gach-Gazan competition continues to gain to people!
After each race, Gach-Gazan gives a shopping chance with 1,000 AZN for the winner and gives presents to other participants and spectators as well. To participate in the contest it is enough to register at the Ganja Mall information desk with an identity card. Keep the coupon that they have given and come to Ganja Mall with the coupon on the day of the competition and win so many gifts.
Let's take a look at the 6 winners of the Gach-Gazan competition, which has been held since May, and what they have earned.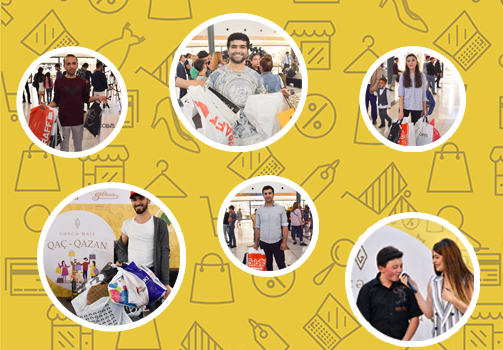 The winner of the first Gach-Gazan competition, Gurbanov Orhan, win with the 25-minute shopping by completing the list and got all gifts from the Original Marines, New York, Madame Coco, Karaca Toss, Go Sport, Hamilton, Sabina Perfume and Cosmetics, Parfois.
Nursultan Ziyadov, winner of the 2nd Gach-Gazan Competition on June 11, won a handful of gifts from OVS, Greider, Bravo Supermarket, De Facto, Poppy Gallery, Acoola Kids, Karaca Home, and Libraff.
The 3rd Gach-Gazan Competition was held on July 2 and the winner Mehman Taghizadeh won prizes from McDonald's, Bravo Supermarket, Coffeemania, Six, Flo, Cavalry, Bebetto, Colin's, Damat's, Contact Home.
Winner of the 4th Gach-Gazan competition Alkan Ramigzadeh received prizes from the Caraca Toss, Golden Rose, Hamilton, New Yorker, Acoola Kids, Bravo Supermarket, Lady Sharm, Go Sport, KFC, LC Waikiki on August 6.
Winner of the 5th Gach-Gazan Contest on September 10, Nizami Nabiyev won prizes from Greider, OVS, DeFacto, Karaca Home, Acoola Kids, Sabina Perfumery & Cosmetics, Sabina Perfumery & Cosmetics, Libraff.
The winner of the 6th Gach-Gazan competition was Maryam Lachinova. Maryam has acquired them at the Kach-Kazan Competition with Lady Sharm, Colin's, LC Waikiki, Karaca Home, Bebetto, Flo, cavalry, Golden Rose, Six and Coffeemania.
In addition, it should be noted that other participants who did not win in all contests were also awarded encouraging prizes.
Note that before the competition, four participants will be given a bank card and an envelope worth 1,000 azn each. Inside the envelope is the name of the store and the product to be purchased at the store. The person who completes the purchase correctly and according to the list provided will be the winner and the owner of all the products.
Let's remind you that the next 7th Gach-Gazan Competition will be held on October 29th at 19:00.
Registration and participation in the Run-Kazan competition are free.
More information about the contest can be found here:
http://ganjamall.az/az/news/38
Come, sign up and win!